If you are looking for information about the topic of open source cross platform, you should definitely look through the sample below. It was completed by an expert from AssignmentShark. You can use it absolutely for free! We create such samples to help our customers solve their problems with assignments. Also, we offer the ability to get assistance from experts. Hopefully, this sample is enough for you to deal with your task, but if it is not, you shouldn't worry — just contact us.

You are able to apply to our service 24/7. Our experts can deal with any task, even the most challenging. If you need more information on the topic of open source cross platform, you should just fill the order form and we will contact you soon. All payments that you make to our service will be safe because they are submitted via an independent payment service. Also, you should know that we always protect your privacy. Do not hesitate to make the order! Your deadline is looming closer by the minute!
Free Open-Source Cross-Platform IDE KDevelop 5.0

Almost two years after the release of the KDevelop 4.7, its developers released a new version KDevelop 5.0. KDevelop is a development environment that supports C++, Python, PHP, and JavaScript / QML. The main changes are improved support for C / C++, as well as added support for the latest versions of Python, PHP, and QML / JS.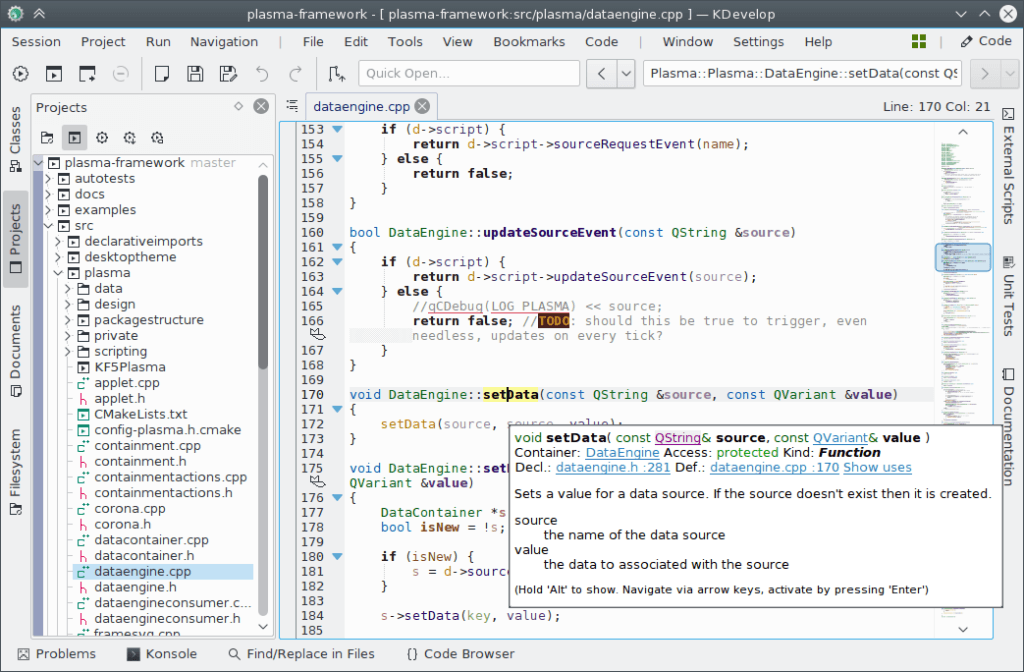 C / C++ are now working with clang
The main change is the transition from a custom C++ engine to clang. In addition to simplicity, it has several advantages:
Even the most complex structures of C++ are now parsed and highlighted correctly. If something does not compile, KDevelop will tell you why.

more reliable. For example, now KDevelop can determine whether the overload of the function is available with the parameters that you provide.

Many errors (extra brackets, typos, spacing) can be corrected just by pressing the keyboard shortcut (Alt + 1).

The parsing mode for the C language is added.
Developers still set up some of the old tools to work with the new infrastructure, but still the most important things are ready. The support of Python, in contrast, did not change much it just became more stable. The same can be said about the work with PHP and QML / JS.
Qt5, KDE Frameworks 5 and other platforms
In addition to the above changes, KDevelop 5 has been ported to KDE Frameworks 5 and Qt 5. This will start the first pilot version of KDevelop on Microsoft Windows, not to mention Linux support.
Download
You can download the source files from here: http://download.kde.org/stable/kdevelop/5.0.0/src/.
The developers also provide an experimental binary package, which can run on any relatively fresh Linux distribution: http://download.kde.org/stable/kdevelop/5.0.0/bin/linux/.
Thanks for your attention!