InDesign, in our opinion, is one of the easiest and most convenient programs for creating multi-page editions. While it has a wide range of functions, it is very easy to learn how to use Adobe InDesign. Besides, the compatibility with other programs of the Adobe System makes it simply priceless for every designer. What can you do with InDesign? Usually it is used for creating booklets, catalogs, books, newspapers, magazines, etc. If you have a strong desire to learn how to use Adobe InDesign, this article should help you.

The text below briefly introduces the main design possibilities in Adobe InDesign. We have illustrated the text with screenshots and detailed descriptions to help you understand the information better. Hopefully, with our article you will easily understand how to use Adobe InDesign. Besides, on our blog we share more guides and sample tasks on architecture, design, programming, engineering, and more. So, don't hesitate to find more helpful information right away!
How to Use the Adobe InDesign Program Package. Part 1
First start Adobe InDesign: Start > All programs > Adobe CS5 > Adobe InDesign.
Then we need to set up and create a new document: File > New > Document Setup. Set the number of pages, page size, and orientation. Then, press OK.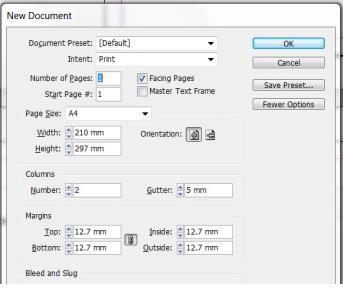 To modify the document set up, go to File > Document Setup. Change the size and/or the number of pages.

To import text or images, press File > Place (or Ctrl + D) to import content from other applications. You can import text from .doc, .rtf, or .txt files. Some character and paragraph formatting will be maintained.
For instance, styles can be imported from MS Word, but most page layout settings, such as margin and column settings, will be ignored and will need to be reapplied in InDesign. Typical image formats for use in InDesign documents are .tif, .ai, and .eps.
You can also import .jpg, .gif, .psd, and .png files. A .pdf file can be imported into an InDesign page, and layout, graphics, and typography will be preserved, but you will not be able to edit a placed PDF page within InDesign.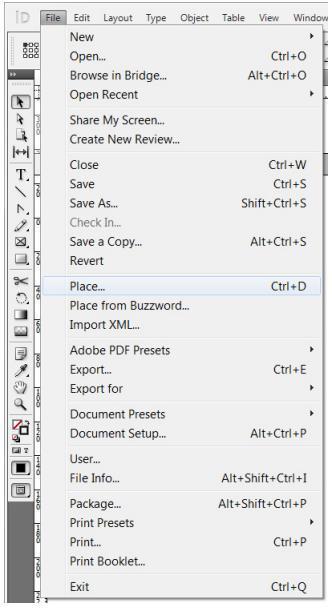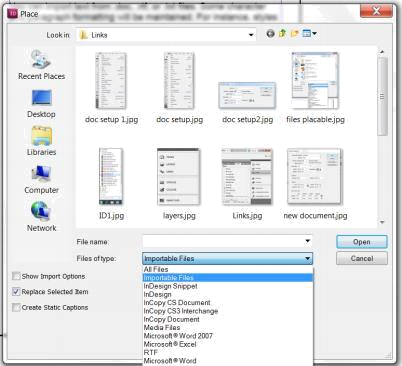 InDesign provides both menu commands and palettes for formatting and arranging your pages.
Palettes can be tucked away on the right side of the application window (click on bar), or tabs can be torn out of the group to be dragged around the screen, grouped, and regrouped.
To add additional palettes: Window > choose palette wanted.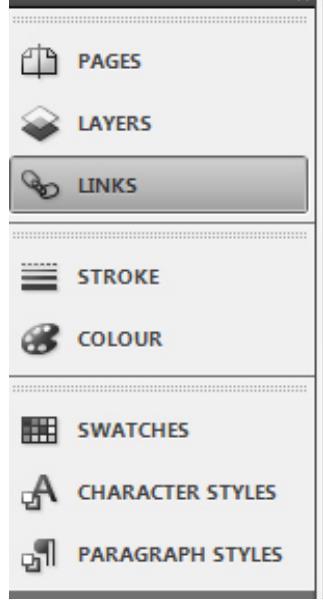 Use the page palette to navigate pages, rearrange pages, and attach pages to master pages (see below).
Use the pop-out menu off of Page Palette to insert/delete pages or spreads.
Drag and drop the pages on the palette to rearrange page order.
Double-click on a page icon to go to that page and other methods to navigate pages.
To move ahead one full page, on your keyboard, press OPTION + the down-arrow.
Use the page navigation buttons or pop-out menu at the bottom of the document window to change pages.