Suppose that as a result of some experiment, a sample x1, x2, x3 … xn has been obtained.
We have a data retrieval: 7, 12, 24, 24, 24, 17. 17. Let's find the relative frequency distribution using Microsoft Excel:
Now it's much more understandable: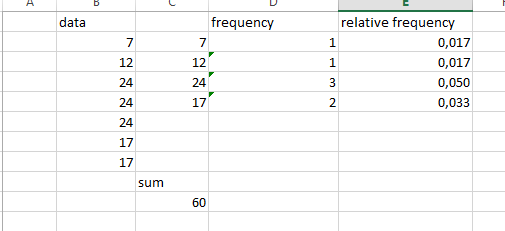 So with the help of such a simple manipulations we got the relative frequency distribution. Thanks for your attention. If you still don't know how to construct a relative frequency distribution, ask our experts for online assignment help you. We work 24/7 to meet your deadlines and provide qualified help.

You can also like cumulative frequency distribution table sample completed by one of our experts.