Are you interested in ITIL methodology? Then read our sample and find out more about it. The sample was designed for people who would like to gain knowledge in this methodology. It was completed by an expert who possesses vast experience in the field. On our blog, you can find many other samples, besides this sample on ITIL methodology, which explain diverse topics to you. All of them concern exact sciences, such as math, programming, physics, and others. AssignmentShark is a service which has gathered many knowledgeable experts in one place.

If you are a student who needs to complete an assignment in some of the technical disciplines, feel free to ask us for more help. Our experts are capable of completing tasks of different levels. When you are baffled with a specific question in science, you should make an order and we will provide you with assistance as soon as possible.
ITIL Methodology
ITIL is a library describing the best ways of organizing work units or companies providing services in the field of information technology.
There is a perception that ITIL is serious, difficult, and confusing, that it is useful only for very big companies, and most employees in small companies keep everything in memory.
Adherence to ITIL principles helps first and foremost the manager of a company of any size to work calmly, steadily, and with a plan. It's simple. The ITIL library has information about the best way to perform IT products. The opposite is true: it is possible to do it in the best way using ITIL recommendations.
It is noteworthy that IT companies are the same everywhere, but they use ITIL often without knowing about its existence. In fact, if the administrator does not work using his feet but uses his head, he will come step-by-step to what is described in the ITIL on those issues.
The difference between adherence to recommendations and self-invention consists in the value of the resulting experience (the number of erroneous experiments, wasted time, and money). In addition, many processes and decisions do not reflect, because there is no need (incidents and requirements) of simulation.
Here are some basic examples of the most popular problems of administration in small companies:
Working with incidents and user requests usually takes most of the time, it is the least efficient (time/task), kills any planning, and brings chaos.
Changes (update, installation) in the IT infrastructure result in failure of everything, and victorious solutions to the newfound problem in the administrator's night shift is unappreciated by anyone.
A change of administrator leads to new costs and downtime because the new admin doesn't know anything, and looking uncomfortable, reworks other people's crutches to his favorite crutches, and also does not write documentation.
Risks are discussed in quite abstract forms as "what if," "maybe," "well I told you so," "now it works" — basic tags of such reasoning.
Backup and recovery procedures are discussed at a maximum within a month after a serious failure, until the chief will not see the price of it.
Administrators operate with soul and conscience, all the better, but for some reason cannot establish high-quality operations and maintenance services.
Here is a diagram to illustrate the working process: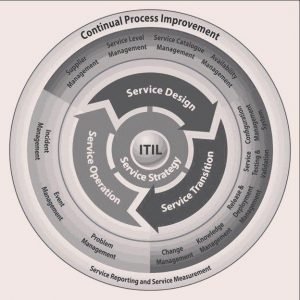 Using ITIL, it is easy to organize services to clients, to earn more, grow more, save time, stress, nerves, to not quarrel with customers and employees, etc. Thus in ITIL, there is nothing new, and instead of the expected mountain of bureaucratic problems, there are possibilities for the optimization of processes. ITIL briefly and clearly describes the principles, the observance of which will help to ease the work and establish a desired job in an IT company.
Options for the above examples:
A simple working Service Desk will help to solve problems with the incidents and the timing of their decisions. Analysis of incidents will help in understanding bottlenecks, which usually are solved quite easily within small companies.
The use of the Change Management function will allow getting rid of many problems because of trivial errors of stupidity, due to carelessness or ignorance.
Documenting the infrastructure is not as scary as it seems at first glance. Maintaining documents within the Change Management function requires a lot of effort and saves a lot of time. Also, maintaining internal knowledge using a very simple wiki engine will save time in solving problems, or even provide a great opportunity for self-users.
Understanding of risks and their correct assessment is made to determine critical services, optimize infrastructure, and find and fix bugs, in the end, to get rid of the headache through the legitimate financing, or a full devolution of responsibilities to senior management.
Backup can be a simple automated procedure because everything is booked and planned, risks are identified, and accidental breakage is minimized.
Administrators work quietly in scheduled hours, and the customer/employer is satisfied.